15 days of Thanksgiving Homeschooling ideas:
11 Thanksgiving Activities for Toddlers and Preschoolers!
I love Thanksgiving. The decorating, the preparation, the cooking, the whole kit and caboodle. Everyone has their own expectations for this fun day, even the little people in your life. Here are some fun ideas to make the day special for your toddlers and preschoolers, that do not take too much of your time to throw together. Have Fun!
Turkey Feather Hunt
Parenting
knows what my younger kids love to do: Parade around declaring they are the winners to whatever game is being played. (current character lesson: humility). This one is a simple, yet fun idea. Collect some feathers at the craft store and have the "turkey" hide them inside or outside… Then let the hunt begin!
Make their own Turkey Cups
This one is a two-for. Kids love creating their own special cup, and parents do not have to go through three times the amount of disposable cups!
Fruit Gobbler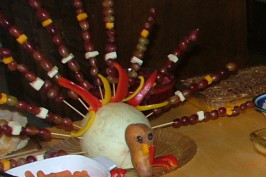 Food.com suggests a cute craft/snack. Make eating a healthy snack fun while waiting for the turkey!
Make a Thankful Tree
I love this one from
Artful Homemaking
! Gather some twigs, place in a solid container and supply the kids with leaf shaped coloring pages. They color, write what they are thankful for and then decorate their tree. Fun!
Mayflower Hand print: Too Cute!
Become a Native American
Kids love to dress up
. Although I know how to do this craft in my sleep, I gathered this link at Free Crafts for Kids.
A few paper bags, some construction paper, scissors and glue and viola! Kids are busy and happy for at least 30 seconds:).
***Warning*** I have 5 boys. When they dress up as Native Americans they also "become" Native Americans. They forget the history lessons about how wonderful and peaceful these people were and become savages on a mission. In my house, they dress up and then go outside:).
Thanksgiving Movie Festival
Build an indoor Fort
Pop a Turkey:)
Pop some popcorn and create your own Popcorn Turkey! Isn't this cute?
One Charming Party
has the directions for this fabulous bird!
Pool Noodle Toss!
Bubble Break!
All kids love chasing bubbles. If the weather permits, make a few fun bubble wands, some super duper bubble solution and head outside!
More Thanksgiving Activities Here
Thanksgiving Math, Reading, Science Activities for 3rd Grade
30 Thanksgiving Activities, Crafts, and Games for K-2nd Grade
21 Thanksgiving Math Activities for Kindergarten
4 Thanksgiving Jokes Solved with Divisibility
Fall Math and Literacy Super Bundle- Grades K-2